Big Data is no stranger to education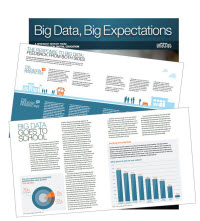 The use of campus management systems (LMS, SIS, etc.) has put expanding amounts of data in educators's hands. This data can help make informed decisions, increase transparency, allow for real-time targeted instruction and keep students on path to college. However, it also can be difficult to interpret, plus overwhelm storage centers and get lost in legacy systems.

Cox Business is proud to be a sponsor of this Special Report which looks at the various strategies and technologies that will help education institutions rein in Big Data and realize its full potential.

In this report, you will learn how to:
Lay the foundation: Gathering, collecting and capturing Big Data

Connect the dots: Linking systems together

Finish the job: Visualizing, analyzing and leveraging the numbers

Place the data: Storage, Bandwidth and Computing Power

Overcome the barriers and make it real
Download the Free PDF Today!